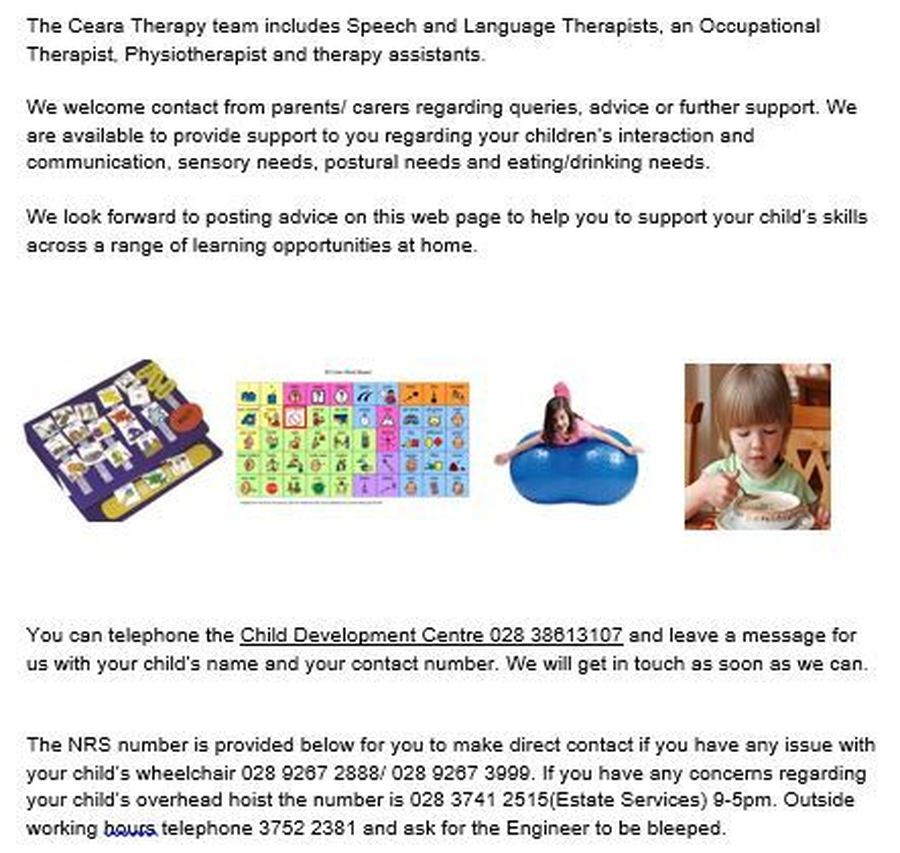 Statement from Centre Chief Executive Mr Gary Cooper OBE I fully appreciate that in these challenging times parents and professionals will be looking for support in relation to the children and young people that they live and work with. At Middletown Centre for Autism I have been pleased by the approach the Centre staff have undertaken in relation to the development of a range of online resources and supports fully available wherever you may be. This newsletter highlights a major new move for the Centre with the introduction of webinars. These specialist sessions should be of great assistance in supporting autistic children and young people and their families during the current crisis. I have been hugely appreciative of those who have undertaken to support the Centre in the development of these new services. I have no doubt that you will find them of great value. Further details of how to access these sessions follows: In the meantime I wish everyone well, stay safe and your collective support is hugely appreciated.
Middletown Centre Webinar Series March - April 2020 In order to provide support during the suspension of our face to face delivery Middletown is offering a series of twice weekly live webinars (with a week's break for Easter). These sessions will feature members of our own multi-disciplinary team and international speakers on a series of themes. Please click on the link beside each name to read more about the session and register to attend a live session. Please note the live sessions will hold a maximum of 100 attendees but they will be posted on social media and on the Centre's website so no-one will miss out on these valuable learning opportunities . Getting Settled; Jill McCanney - Introduction to Sensory Processing Tuesday 31st March 2020 - 19:00 Jed Baker Handling the New Normal! Thursday 2nd April 2020 - 19:00 Life Skills and Personal Care; Brenda Myles Wellbeing and Being Well Tuesday 7th April 2020 - 19:00 Jill McCanney Personal Care Thursday 9th April 2020 - 19:00 Play and Leisure Skills; Lorraine Scott Play and Leisure Skills Tuesday 21st April 2020 - 19:00 Peter Vermeulen Promoting Leisure, Fun and Happiness Thursday 23rd April 2020 - 19:00 The live sessions will host a maximum of 100 delegates live and the session will be posted on social media the following day. Please consider the maximum number of places available when booking your place. What do you need from us? We are mindful of the volume of material currently available on social media; we want to ask you what do you want from Middletown? How can we best support you in this difficult time? Please complete the survey below
Dear Service User,
At Middletown Centre for Autism we are always trying to improve our products and services by listening to our service users. To help us better meet your needs at this difficult time amid the Coronavirus, we invite you to take this short survey by clicking on the 'link' below. Feedback from service users like you is essential so we can concentrate our efforts to determine the most effective and practical way of supporting our community. By clicking on the link below, you are consenting to take part in this short survey. No personal data will be collected or stored. All data is confidential and only used to guide our service delivery during this unprecedented time. Thank you for your continued support of Middletown Centre for Autism, and for your time in completing this survey. Middletown Centre for Autism
| | |
| --- | --- |
| | Have you signed up to our VLE yet? This is online learning at your finger tips, please follow the link below to sign up please note this is a different sign in than the Middletownautism website. Users must register separately to this platform as it is different from our current website and manually enrol on each course |
Sometimes changes in routine can be difficult for our children. This is a calendar with visual supports can be used to show children that they will be 'at home' for the next few weeks or if children are asking about school the 'no school' symbols could be put on Monday-Friday. If we are given notice of a date to return to school the 'school' symbol could be put on to prepare children to transition back to school.